The changes brought about by technological progress in today's world mean that chess fans have started using new training sources and have left books and magazines aside. Online training and specialized software are more likely to be used by the chess community for training purposes.
With a chess app installed on your smartphone or tablet, it's now possible to play chess wherever you are, just like sports fans can bet online anytime, anywhere via sportsbook apps, the newest of which is the SBK app. If you are interested in finding out more about it, you can read the review of SBK app and give its beta version a try.
When it comes to chess apps, we must admit that there is great variety and we are spoiled for choice, so in this article we will talk about what we consider the best chess apps out there.
  

Chess.com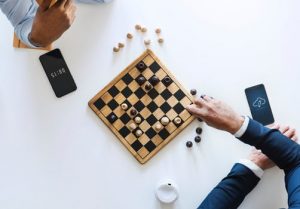 The Chess.com app is considered by many the best chess app ever as it has everything a player would expect from a chess app. It allows you to read chess articles online, watch tutorials and video lessons, solve over 50,000 tactics puzzles and make new friends online.
The high number of people that use this chess app speaks for its popularity: more than 7 million members from all over the world. With a straightforward and easy-to-use user interface, the app can be used by both beginners (even kids) and professional players.
Chess.com is available on iOS and Android, and there is a free version that offers you access to some basic features. If you want to enjoy the complete experience, you can sign up for a Diamond, Platinum, or Gold service.  
Chess with Friends
Chess with Friends is a great app for those who want to play chess online with friends or random opponents. It's a simple and streamlined app that allows players to engage in several chess games at the same time.  
It has a turn-based format and allows players to keep track of their moves and progress. Being part of the Zynga with Friends game series, Chess with Friends is basically a social game, so it includes a chat feature that lets players communicate with each other during play.
 

Play Magnus
This is a free chess app available for both iOS and Android that mixes chess playing with social media elements. It features 99 game levels, training videos, as well as an interactive tournament feature.
As the name suggests, the app is based on the current world champion, Magnus Carlsen, and you can play against virtual Magnus at different skill levels based on his proficiency at different simulated ages.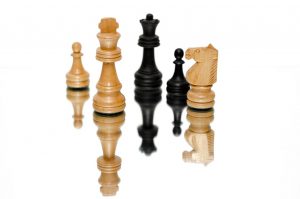 Stockfish Chess
Another popular app for chess playing and chess analysis on the go is Stockfish Chess. This is an app that pits players against a computer, but be aware that the difficulty level is much higher than on other similar apps. This means that it is recommended for those who already know the rules of the game and just want to hone their skills.
      

Social Chess
Social Chess is one of those apps that allow users to play chess against real opponents online. It has over 600 million members worldwide, and you can connect with any one of them whenever you want to both play and chat. The app is ad-free and features the ELO rating system, allowing you search for similarly ranked players.